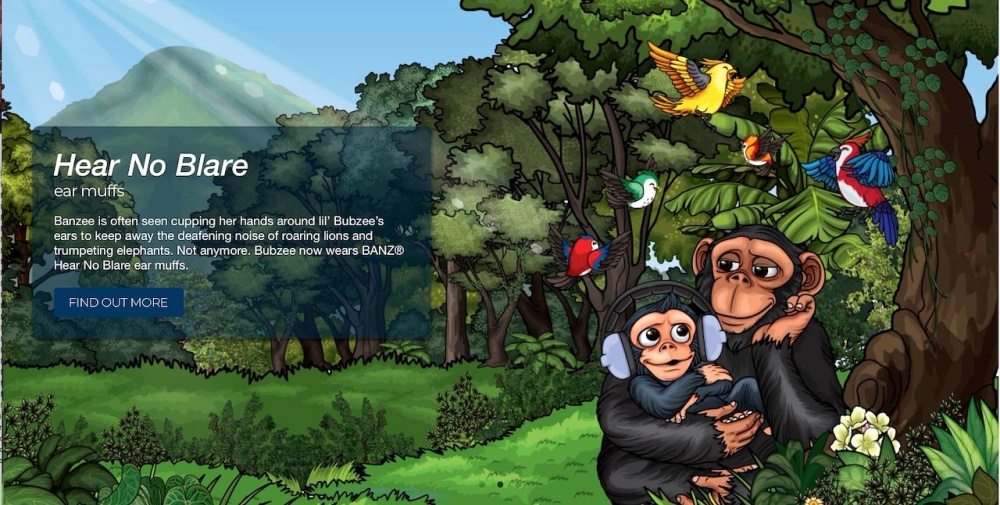 ​
BanZ Hearing Protection
Big Protection for Little Ears
You now have a solution to providing hearing protection for infants with sensitive hearing and need hearing protection. The BanZ Mini earBanZ hearing protectors effectively attenuate harmful loud noises without shutting out other ambient sounds.
earBanZ are easy to wear, with a low profile and no protruding parts that can catch on things. The wide, foam-filled cushions ensure that the set doesn't squeeze uncomfortably, and there is plenty of space for the ears inside the shells. BanZ earBanZ have a comfy leather-like cover over the headband to ensure all over comfort!! The weight is also important to comfort; each headset weighs just 142 grams.
They are perfect for all sorts of activities including:

Attending Royal outings like Prince George (UK)
Cheering on your dad's 22nd Gold Medal race like Boomer Phelps
Watching mom and dad in concert like Blue Ivy (Beyonce / JayZ) or River Rose (Kelly Clarkson)

helping out to mow the yard or with workshop projects

going to sporting events, car races or air shows

water skiing, boating and other water sports

music concerts or band rehearsals

watching shooting or gun competitions and hunting

calming young children in noisy environments

movie theaters or theme park rides
Built for newborns, toddlers and kids. The earmuff come in two sizes; Infant Model for babies & toddlers approximately ages 0 to 3 years old, Kids Model for kids 3+ years old. These funky earmuffs look great and more importantly, with their category 4 rating they will protect children's ears from potentially harmful noise. Weighing from 190 grams, Banz earmuffs are small enough to fit in the palm of your hand, making them easy to store or carry with you. The soft cushion cups will also ensure that your child will be comfortable when wearing Banz Earmuffs.
Common FAQs
How will I know if they are fitted correctly?
Make sure the child's ear is enclosed inside the space in the ear cup and that the cushions seal fully against the head around the full perimeter if the child's ear. Adjust the headband so that it sits comfortably over the top of the head. 
What does NRR and SNR stand for and what do they mean?
NRR stands for Noise Reduction Rating, and SNR stands for Single Noise Ratio. Basically, these two ratings are used to give a measurement of the average decibel attenuation ( lowering of the noise level ) over a range of specified frequencies. They are calculated slightly different and because of this the SNR rating will come out higher than the NNR rating. 
In simplified form, an NRR or SNR rating indicates the level that a noise can be reduced by wearing a hearing protection device. Example: If you have a noise level of 110 dBA and you have a NRR or SNR of 30, then the perceived noise level would be reduced to 80 dBA.
Will my child be able to hear anything with the ear muffs on? 
Yes, your child will still be able to hear, this is important to their safety, however the dangerous levels of noise will be reduced. The less noise the child is exposed to, the less noise the ear muffs will let through. This also applies to ear plugs. 
What options are there for a newborn baby? 
Our Banz Infant earBanZ are rated for newborns through age 24 month and up (should your little one have a smaller head)! The perfect solution for tiny ears!
Are BabyBanz Infant & Baby earmuffs suitable for use with sleeping babies?
We recommend always supervising your child when using earmuffs for Babies. While the noise reducing properties of our products can help some babies and children fall asleep, particularly in louder situations, under no circumstances do we recommend leaving your baby or child unattended while they are wearing earmuffs.
What do the letters printed on the earmuffs refer to?
The letters printed on the side of the earmuffs refer to various international safety standards:
ANSI S3.19 – The American National Standards Institute is a private, nonprofit organization that oversees the development of voluntary consensus standards for products, services, processes, systems, and personnel in the United States. Equivalent Australian companies include SAI Global and Standards Australia. S3.19 is the standard introduced by the ANSI to regulate hearing protection devices. BanZ earBanZ meet these requirements.
EN352-1: 1993 – This is the European Standard for hearing protection and hearing protectors, as well as protective clothing and other safety measures. BanZ earBanZ also meet this standard.
Duchess of Cambridge Kate protect Prince George's hearing at the Royal International Air Tattoo with a pair of Baby Banz Earmuff.
Brand:
In 2001, BanZ, Inc. found its start in "the land down under," one of the harshest UV climates in the world. One Australian's fruitless search for a proper pair of baby sunglasses for his infant son forced him to take action, leading to the development of the Original Baby BanZ sunglasses.
First introduced to the American market in 2002, BanZ is best known for their unique wrap-around, banded design and 100% UV protective lenses. Often imitated, but never duplicated, BanZ continue to be the standard for baby and children's sunglasses and UV protection worldwide.
BanZ has not only made a name for itself in the United States, but across the globe as BanZ products can be found in countries around the world including Canada, South Africa, Japan, Korea, Germany, China, Greece, Switzerland, Brazil, France and England. The BanZ US headquarters and shipping warehouse is located in Missouri with corporate offices in Australia.
In an ever deteriorating UV climate, BanZ is steadfast in its ongoing effort to preserve the sensitive eyes, ears and precious skin of little ones everywhere. BanZ is committed to developing children's UV protective sunglasses, hats, accessories, hearing protection and swimwear that not only protect them from environmental dangers, but are also comfortable, fun to wear and strong enough to last.